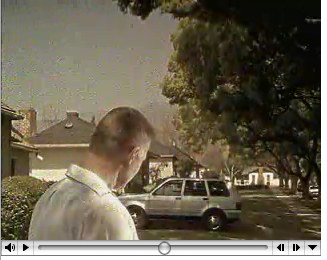 Now normally, I got no truck with Errol Morris. Just the opposite, I'm one of his more ardent admirers. Thin Blue Line made me want to become a filmmaker. I've interviewed him and learned at his knee.

And when his Miller High Life commercial titled "SUV" started mocking a hapless La Forza, I was all for it--until he drove into the ditch with a retrograde slam of station wagons as unmanly.
Full of workbench calluses, high-and-tight haircuts, and potato salad, Morris's Miller commercials celebrate a beer-colored era of middle-American manhood that I was totally digging until the skirt-wearing wagon driver comment.
Now I can't help but think that Miller Time was also when when women knew their place and kept those kids outta your hair, a time when you could smack your family around when they had it coming, and they'd stay shut up. Those were the days, I guess. Now where's my beer, woman?
Watch "SUV" and a bunch of other commercials by Errol Morris for Miller High Life [errolmorris.com]
Here's the narration text for "SUV":
Leather seats.
Automatic transmission.
Nowadays, you'll hear people call this a truck.
Well, a man knows a station wagon when he sees one.
This car will only see off-road action if the driver backs over a flower bed.
If this vehicular masquerade represents the high life to which men are called, we should trade our trousers for skirts. Right now.