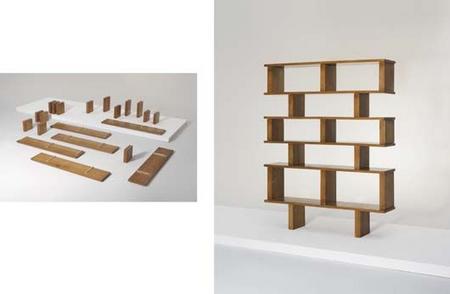 If you're a furniture junkie--or just a design aficionado with a kid on the way, trying to figure out the best way to invest all six figures in the nursery, the auctions the next couple of weeks have a few good pieces to consider [damn but I hate that phrase, "a few good pieces."]
But even if you're not buying, you can still benefit from the existence of a $150,000 bookshelf: you could just admire it, no sweat. It could make your Oeuf furniture purchase seem like a bargain in comparison. Or it could make you feel like the only sane person on the face of the earth. Win-win, any way you slice it.
First up is this rare bookcase by Charlotte Perriand and Pierre Jeanerret, which sure looks like $80-140,000 assembled. [Phillips dePury, May 24 result: sold for $86,400, $72k bid +20% premium]
Perriand was one of the inspirations for Oeuf's Mini Library, which, at $560 or $580, is practically free in comparison.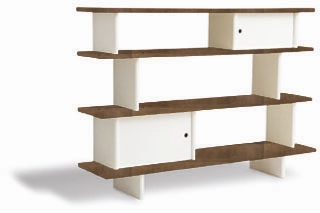 What is up with these vintage Nanna Ditzel Trissen table & stools? 1961-2 is great, but I've seen a vintage set--unfinished, to boot--for one tenth the Phillips estimate of $10-15,000. [PdP, May 24 lot 195 result: didn't sell, obviously]
After the jump, Campana Brothers plush craziness, plus some sweet, sweet rockers:

Did I say craziness? I mean bafflement. Now I love me some Campana Brothers plush toy sofas, I always have. I think they're hilarious and fun, and a great way to spend $12-15,000. Which is what they used to sell for at Moss, at least before a Shark & Dolphin Banquette [an edition of 35, but still--it's from 2006!] turned up at Phillips with an auction estimate of $20-30,000. Now the Moss website has them all listed as "Price On Request." [result: holy crap, it went for $50,400! $42k bid + premium]
Something smells fishy to me; is this auction just blood in the water to start a feeding frenzy? I'm still waiting for someone to figure out how to DIY one of these things anyway. The trick is in the armature, so get cracking people!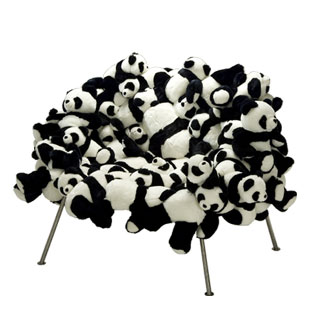 Hey-o, this Banquette made out of stuffed pandas is only an edition of 25, and it's exclusive to Moss. It's so damn cute, I say it's worth a million bucks if it's worth a penny.
Now onto the big game: rockers. There's a classic mid-century modern rocker by Ralph Rapson, designed for Knoll in 1945. It's made of solid birch with black canvas webbing, and carries a $5-7,000 estimate. That's the same estimate from 2002, btw, and almost 10x what the non-rocking version of the chair can be found for. I kind of like the longer, leaner lines of Rapson's Rapid Rocker myself. And you can buy that one direct from the source for a lot less. [Wright20 lot 199, May 20 result: didn't sell]
Now if I was spending your money, I'd be buying this sweet, sweet walnut and leather rocking chair Gio Ponti made for Cassina in the 1950's. It is a thing of odd beauty. Est. $20-25,000 [PdP lot 111, May 24 result: sold for $24,000, $20k bid + 20%].