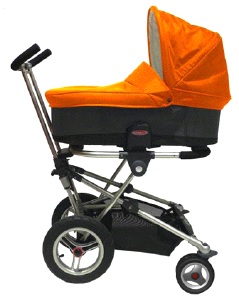 Nothing like posting a bunch of anonymous Korean webchatter about a company's new flagship stroller to get a CEO's attention.
I just got off the horn with Bill Jacoby, president of Euro-Baby, the US distributor for several premium baby gear brands, including Micralite. We had a great chat; he's definitely excited for both the new Toro and the Fastfold, which has been performing very well since its US introduction. Here are some highlights:

The Fastfold is not being discontinued. In fact, they just got a new, bigger factory for it, which enabled them to drop the price a couple of months ago.

The US-spec Toro is coming this summer. UK-spec versions are slightly ahead of that schedule, and Korean-spec ones, obviously, have already dropped.

The Toro was designed in the UK, by Micralite's own golf-loving dads. That Korean company is the distributor, not the designer. That flickr dude's kimchi is clearly overfermented. [ok, I added that last part. -ed.]

The Toro's sweet spots: all that handling & folding magic, plus a full recline Apparently, it may look like it looks the same, but in order to get the same kind of one-handed Fastfold, the Toro was completely redesigned.

The Graco adapters are in, and rock. Actually DT reader Jonathan mentioned this, too. [actually, he said, "It saved our ass recently."] Micralites in Europe come with Maxi-Cosi adapters, but since M-C's been slow getting their US plans rolling, Micralite pushed ahead with Graco adapters, which bridge the gap between bassinet and seat.
We talked about a bunch of other things, but I forget what they were. As soon as I opened the Toro spec sheet Bill sent me, I was hypnotized by the way that op-art seat pad reflected off of the inside of that canopy. Now somehow, I've got five Micralites in my shopping cart, and I have an irresistable urge to pay MSRP.
Euro-Baby.us
Previously: Micralite Toro: sweeter than Micralite Maguro