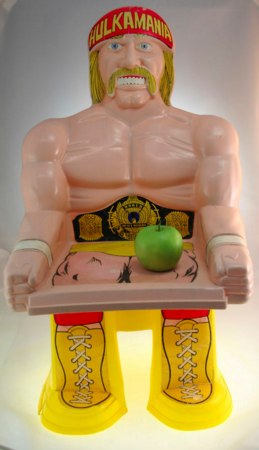 The timer pauses in its last silence, the interval between 1 and 0. No one can save us now. The world is doomed. Words have lost all meaning. The bodies of poets and bards already litter the Cliffs of Dover.
An injection molded plastic children's chair in the shape of Hulk Hogan--with a seat decorated with his lycra-encased, bulging lap--is being sold on eBay with the item description, "Hulk Hogan child chair mid century modern Eames Panton."
Eames Panton is storming out of the ring right now, begging Vince McMahon for justice.
Hulk Hogan child chair mid century modern Eames Panton ends May 10th, opening bid: $25+17.50s/h result: $31+shipping. [ebay via andy]