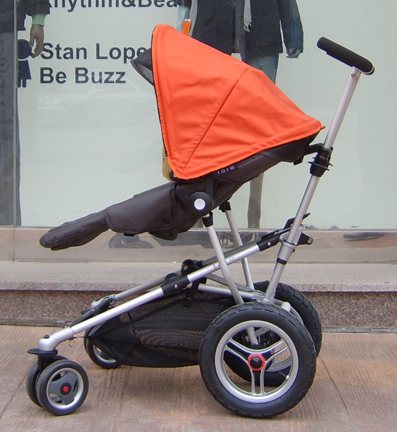 Here's another JPMA Innovation Award Finalist product that got zero PR bang for its manufacturer's payola buck: the sweet-looking, new stroller model from Micralite called the Toro.
DT reader LT spotted some photos of the Toro on flickr, of all places, which were posted from Korea. [Where, if I'm understanding the captions correctly, the Toro was designed by a company called MotherBe. Any Korean-readers out there want to clarify this a bit? I always thought the Micralite was designed by a trio of golf-loving British engineers.]
The Toro's family resemblance to the original Micralite Fastfold is immediately apparent. It looks as though the Toro keeps a lot of the Micralite undercarriage, which gives it the same sweet turning and handling performance as the Fastfold.
But it trades the Fastfold's distinctive double-wedge seat & canopy for a more--I'll say it--Bugaboo-like, floating chair. That gives the Toro one and possibly two more seat angles than the Fastfold's two, including fully flat.
The British baby store Oliver's Babycare is taking deposits on the Toro for May delivery. The price: 259 pounds, about 100 pounds more than the Fastfold. What it'll be in the US, where the price for the Fastfold was recently dropped by a couple hundred dollars, is anyone's guess [or anyone's good email question, if you're slightly less lazy than me.]
See photos and promo pics for the Micralite Toro in Joeyongwon's flickr stream [flickr via dt reader LJ]
Toro Buggy by Micralite [olivers-baby-care.co.uk]
Micralite Fastfold, $369, Newborn System, $579 [sparkability.net]