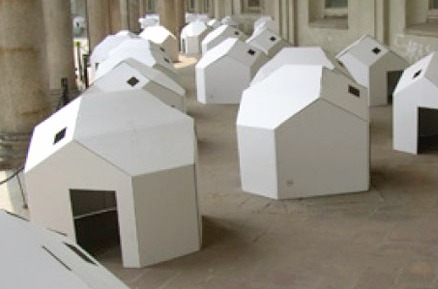 Italian kid furniture manufacturer Nume hit it big with their US distribution deal with DWR. But DWR seemed to wildly overestimate the popularity of Nume's most affordable design, a blank white cardboard playhouse which was ready and waiting for a kid's crayon-wielding touch. Whenever I've been on DWR's site or in their Annex outlet, the playhouses have been marked down and down and down. Last time I saw them, they were $15/ea. for as many as you wanted.
For their installation during the Milan furniture fair, Nume has remodelled the cardboard house a bit, giving it a more interesting, asymmetrical shape. Now it's called the Igloohouse, and it's about what you'd expect if an innocent, little traditional house got knocked up by one a' them hippy-type geodesic domes.

If you want the 80% markdown, you should give it a few weeks before buying.
Kidsmodern Milano Salone report: Nume Cardboard City [kidsmodern.com]
Previously: Nume, Nume, Nume, Nume Fruit Salad-Colored Kid's Furniture
dome image: Oscar Tuazon @ artists space, via referencelibrary