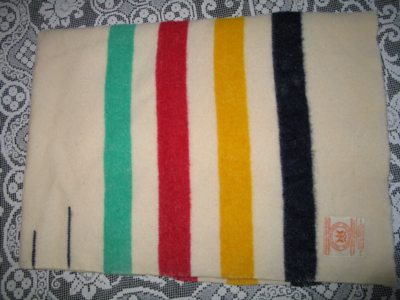 Among the things my wife has to put up with are the unreconstructed vestiges of my preppy youth: the horrible, old arygle v-neck sweater I'm wearing; my fondness for Volvo 240 wagons; and that old, candy-striped Hudson's Bay Point Blanket I insist on breaking out [hey, it's in great shape!] every winter. See, she's down comforter people, and I'm--anyway.
So it's odd that it only occurred to me now to look for baby-sized Hudson's Bay blankets. Turns out there are some. Or were some. The points indicate the blanket's size and weight [not the number of beaver pelts it could be traded for; like any exchange rate, that fluctuated over time.] According to point blanket point man Harold Tichenor, a 1-point blanket was about 32 x 46 inches, and a 1.5-point blanket was 36 x 51 inches.
In the US, at least, only 4-, 6-, and 8-point blankets are currently available. Of the fifty point blankets on eBay right now, only two are 1.5-points.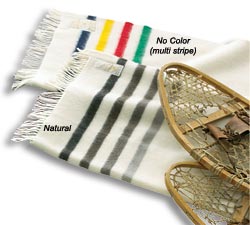 While it's not a traditional point blanket, exactly, there is a wool throw, 42 x 70 inches, called the Hudson's Bay Capote, which has the stripes [it also comes in pink and black-grey striped versions]. They're $145, but Getzs sells them for $99. And if there's one thing preppies are known for, it's chintziness, so that works out nicely.
update: Blame Canada nothin'! Blame America, and Woolrich, who has a lock on selling Hudson's Bay blankets in the US, but chooses to deprive American babies of the actual Hudson Bay Company's merino wool baby blanket, 90x90cm, and machine washable, even! Someone needs to take Woolrich to the woodshed.
Search for 1.5-point Hudson's Bay blankets on eBay [ebay]
Hudson's Bay Capote Throw, $99 [getzs.com]
Hudson's Bay Co. Baby Blanket, $125CAD, Canada shipping only [hbc.com via cam]