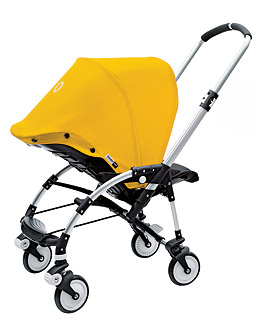 So the buzz--let's just get that pun out of the way right now--has been building for a few weeks, but the Bugaboo Bee debuts for reals at JPMA, where it's gonna bring down the house.
Now the underground hipster parenting zine Time Magazine has broken the press embargo and released a photo of the compact, single-fold, single-single piece stroller, which, with the canopy on, bears a remarkable family ressemblance
The stroller drops in September. The cup holder will follow sometime in 2009.
Style & Design 100: Bugaboo Bee [time via dt readers becca, david, lane, karen & bt]
Related: Hats off to my scrap wood boy Piet Hein Eek, who made the list, too. His cribs are here three years after they were here.