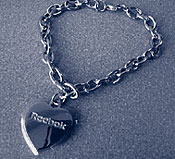 Lead is highly toxic for kids. They shouldn't get near it. And it turns out to be mostly up to you to guess what has lead in it and keep it away from your kid, because the EPA and the CPSC have basically confirmed that their lead testing, inspection, and prevention programs are not doing the job.
Environmental and child safety advocacy groups won a settlement with the EPA to increase its lead testing and standards enforcement after lead has been reported turning up in children's toys, jewelry, and clothing.
It seems that if it's cheap-ass, metal, and made in China, it could well have lead or lead paint. Encouraging, huh? A series of recalls involved hundreds of millions of pieces of children's jewelry in the last few years. Vending machine toys and painted pearl-looking jewelry were cited as particular risks. Some kid swallowed part of a Reebok charm bracelet and died; turns out it was 90% lead. Unfreakinbelievable.
EPA Agrees To Cut Lead in Kids' Products [ap/nyt]
Hippies keeping your kid safer than the government: Lead toy & jewelry advisory [sierraclub.org]