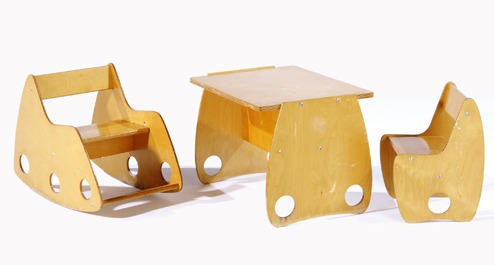 So Rago auctions off a trio of vintage Russian modern kid furniture last October without telling me? What gives?
The set, a table, rocking chair, and side char in birch plywood, had "Made in USSR" labels, and was estimated to go for $400 - 600. It went for $210, including the 20% premium, so bidding was non-existent. They probably started at $200, got no bids, and someone scooped them up for $175. Yeah, capitalism, that's cheaper than off-the-rack at DWR.
What's the point of winning the Cold War if we can't enjoy the spoils? I'm the big man. I need the info, auction people.
October 2006 Solo Rago modern auction results [ragoarts.com]