Every time I go to Salt Lake, I come back thinking of carved wood handchairs. My stepfather collected a lot of art by Pedro Friedeberg, the guy who made those hand-shaped chairs, see, [Here's one in Mexican mahogany that's coming up for auction at Rago Arts in a couple of weeks.]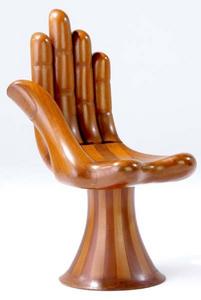 and so I always end up Googling around on Friedeberg to see what his story was.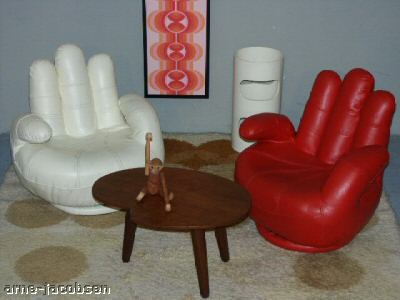 These chairs from Germany are not, in my non-expert opinion, by Friedeberg. For one thing, they're made out of vinyl-upholstered foam. For another, they swivel. For a third, they're for kids, just 21.5 inches high. Maybe it's the idea of getting shagpad furniture for a kid's room, but for some reason, they're kind of freakin' me out.
The red one's in slightly better shape, it seems, and can be yours for $500+$95 shipping to the US. The white one's got a couple of small tears [didn't Ronco invent some kind of miracle vinyl repair kit?] and so goes for $450. They're both "buy it now," too, so no haggling or suspense.