Even though I was never a diehard fan of Bozart's Kaleidoscope House, it always felt like the one that got away. I knew one of the investors behind Bozart from Philadelphia. A bunch of art world people I knew bought it for their kids, their grandkids, and their nieces and nephews. I saw it for sale in the MoMA store. Too bad the art museum trustee market wasn't big enough to support what was a truly inspiring venture. It was the Creative Playthings of the late 1990's.
If only an artist I followed a little more closely than Laurie Simmons had made it, I would've bought a couple just to have. And they'd be sitting in the art storage space, just waiting for the day I stumble across a never-before-assembled Kaleidoscope House on eBay, which is at almost $1,600 with just under 10 hours to go.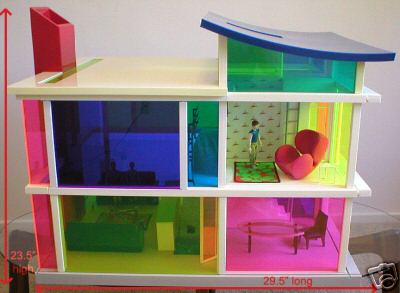 For a playable model, there's always this one, which comes with a few pieces of furniture and some dolls, even [and which, for the record, is neither Eames Era nor mid-century]. It's running "only" $385 right now.
BOZART KALEIDOSCOPE HOUSE DOLLHOUSE -NEVER ASSEMBLED!, currently sold for $1591, ends Apr. 6 at 2100PDT [ebay]
Eames era Bozart Kaleidoscope doll house mid century: currently $385, auction ends Apr. 11 [ebay via dt reader mark]
Previously: Shagadelic Marx Imagination doll house from the sixties.