See, every once in a while some things like this come along, and it makes me reluctant to unsubscribe from the email lists of random auction houses I once registered to bid at some point.
On April 21st, Sollo Rago Arts, an outfit in Lambertsville, New Jersey which does a pretty steady business in 20th century design--including some sweet Nakashima furniture--is auctioning a couple of pairs of interesting modernist rockers.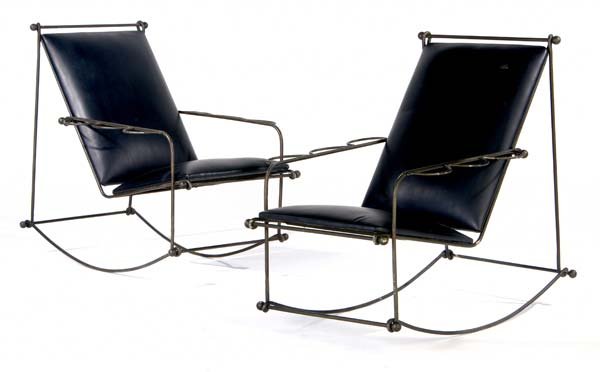 Lot 40: two iron & leather rockers by Paris-via-Switzerland designer Janette Laverriere. Laverriere began giving iron the full Bauhaus-meets-Jacques Ruhlmann workover in the late 30's, but she didn't really pick up the pace until after the war.
This pair of rockers is estimated to go for $5-7,000. [update: they revised the estimate down to 3-5k, and the winnign bid was $3,750 (4,894 with premium).]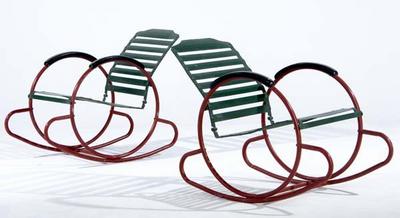 Lot 41: Art Deco rocking chairs in enameled tubular metal, c. 1920's
Compared to the Laverrieres, these unattributed rockers are like escaped circus monkeys playing on your front porch. Which isn't necessarily a bad thing. The estimate here is $1,500-2,500, which sounds to me like the base auction price for any piece of 80-year-old furniture in decent shape. [update: the winning bid was $2,500, or $3,063 with premium.]
Sollo:Rago Modern Auctions, Part One: April 21, Online Catalogue [ragoarts.com]
update: You can bid live via eBay, too: the Laverriere rockers are here and the Deco tubular rockers are here.