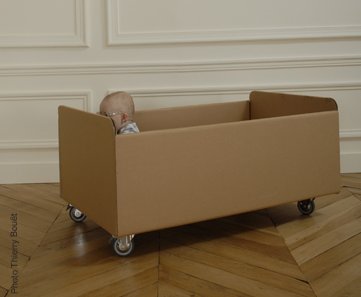 One of the absolutely most unabashedly beautiful, minimalist-but-not-too baby clothes designers around is Album di Famiglia. We found their newborn stuff just as the kid was growing out of the tiny available selection at Estelle, a store on 6th Ave in NYC, and we couldn't find anything about them at all, seemingly. They were in this mythical dream closet I'd imagined for my kid.
Well, they still rock, they're far better known now, and they have much wider distribution, and as far as I can see, they still hew to the idealized version of what an awesome city baby should wear.
Which makes me scratch my head all the more to see that this corrugated cardboard crib/cot comes from Album di Famiglia. Don't get me wrong, it looks awesome, and I can totally get with the less-is-more, essentialist nature of a cardboard crib on casters, home-decorated or not.
But still, EUR220 [plus int'l shipping!] is a hard pill to swallow, even if it's competitive with less conceptually rigorous babybed options. Also, a commenter on Apartment Therapy saw what I saw, too: to comply with US safety standards, the mattress in a crib is supposed to be very snug-fitting, with no enterable gaps. Maybe it's just how it's photographed, but you could find yourself buying another foam mattress when this rig finally arrives. Capito?
Still, it IS pretty sweet-looking.
Album Di Famiglia customisable cardboard cot bed : 220,00€ [littlefashiongallery.com via at's nursery]
image: thierry bouet