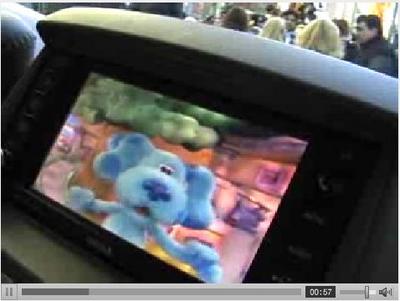 So this is how it's gonna be? Well, bring it on. Sirius and Chrysler will offer live Backseat TV programming from Nickelodeon, Disney Channel, and Cartoon Network for $20/month. Non-stop corporate merchotainment in a minivan. Holy crap, people, it's like the axis of parenting evil.
Am I the deluded, freaky-sounding one here? Just listen to how these people talk in their most uncritical, glowing, self-congratulatory moments, and tell me you can, in good conscience, plug your child into this...I'd call it a Matrix, but that's a Toyota. From the press release, emphasis added for satirical, alarmist effect:
Mel Karmazin, CEO, Sirius: "...I am pleased to have the three most original family-centered programming providers in TV. Just as we provide the Best Radio on Radio, this allows us to launch SIRIUS Backseat TV as the Best TV in the Backseat."

Denise Dahldorf, EVP - MTV Networks Content Distribution and Marketing: "Like all of our MTVN brands, our goal for Nickelodeon is to be everywhere our audiences are, and the launch of SIRIUS Backseat TV gives kids and families even more screens to interact with us."
Ben Pyne, President - Disney and ESPN Networks Affiliate Sales and Marketing: "We are excited to team with SIRIUS and Chrysler Group to super-serve our young viewers and deepen their connection with our shows and brands."

Coleman Breland, EVP, Turner Network Sales: "This new venture with SIRIUS is one we think parents will see the benefits of and represents the next generation of back seat entertainment."
I mean, compared to the rest, the guy from the Cartoon Network sounds like Dr. Spock guesthosting
Masterpiece Theater.
If ever you needed just one. more. reason not to buy a 2008 Chrysler Town & Country or Dodge Caravan, this is it. Sirius. But if your biggest problem with backseat TV screens is the annoyance of having to change the Blues Clues DVD once a week, well, just sit tight. I'm sure the GPS-enabled Character MerchAlert system for guiding you to the three most original bigbox retailers in the country is already in the works.
SIRIUS Satellite Radio's Backseat TV(TM) Launches Only on Chrysler Group Vehicles [prnewswire via jalopnik, who has video coverage of the 2-minute unveiling in Times Square, complete with shots of MTVN marketing managers applauding themselves before heading back into 1515]