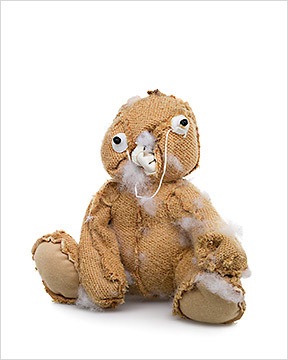 Brooklyn artist [redundant, I know] Kent Rogowski flayed some helpless teddy bears, turned them inside out, and then restuffed them, sending his creations back out into the world as hideous, mutilated mutants. But not before photographing them and binding the photos into a lovely, collectible book. They're also available in two large-format editions.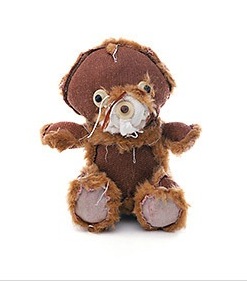 A bookful of bears this distorted hasn't been seen in over twenty years, not since
Bill Sienkiewicz's ink-blotchy-eyed Demon Bear
roared across the pages of The New Mutants in 1984.
So if a clause somewhere forces you to have a teddy bear nursery, here's your out.
Bears will drop, as they say, in early May. Reserve a regular copy at Amazon, or pick up the limited edition, which includes a signed 8x10 beartrait at Bears: the book's site. No word on what happened to the actual bears. [bearsthebook.com via coolhunting]
update: Noted bear expert Stephen Colbert just said, "Remember, America, it doesn't matter how bears look on the outside. What matters is the inside."