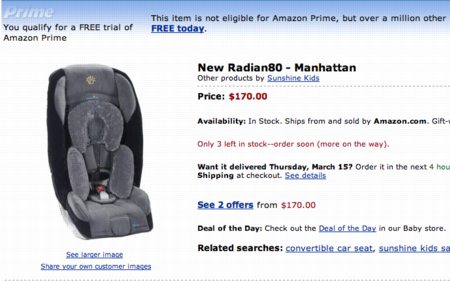 The Sunshine Radian 80 carseat is probably the strongest car seat on the market. It's made from steel like an aircraft seat, not from plastic like a Happy Meal toy. It's also narrower on the outside while providing comparable sitroom on the inside to Britax Regent.
Plus, it folds up.
Plus, it's weight-rated to 80 pounds.
Plus, it's convertible. It can be used as a rear-facing car seat up to 33 pounds.
In short, it's an engineering marvel. And it's worth $280 if it's worth a dime [update: see comments below]. Why Amazon is selling it for $170 totally confounds me, but DT reader Chris snagged one yesterday, and the price is still there right now. Go shop, then go figure.
Sunshine Kids Radian 80 convertible car seat, $170 [amazon.com]
update: go figure indeed. Since posting this, several people, including a couple in the comments below have emailed with complaints about the Sunshine seats:
1) the steel makes them heavy, and so they don't travel well [our Maxi-Cosi Priori is too heavy to cart around for plane trips, too, so I guess I'm less surprised by this.], and
2) they have rounded bottoms that don't sit well in cars, which sounds like a huge dealbreaker, if it's generally the case [as opposed to being limited to a few, rare models of cars, but still.]
Either way, it seems the world may not, in fact, have a perfect, only-one-you'll-ever-need car seat after all. Shocker, and apologies.
4/14 update: As of this week, a full 25% of the Radian 80's that have been purchased here from Amazon have been returned. That's a really high ratio, higher than any other product that gets bought through these affiliate links, and I thought it best to mention that.
If you have a Radian 80 and want to comment on it, or if you bought one, tried it, and sent it back, I think it'd be useful to other folks to hear your experiences.