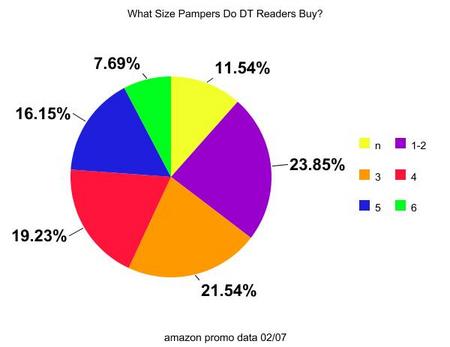 The $25/99 Pampers promotion at Amazon last month, coming as it did on the heels of a similar Huggies promotion in January, provides a chance to see a breakdown of who you are reads this site buys diapers on sale through a blog.
Actually, it only provides a chance to see how big your kid's butt is.
Thanks again to everyone who ordered from Amazon via Daddy Types. Think of it this way: every 20 orders placed represents one less pole dance the kid will have to do to pay her way through college. On second thought, don't.
Compared to the Huggies breakdown, it looks like a lot more people start with Pampers. Is that true? [2% of Huggies buyers bought newborn, vs 11.5% for Pampers.]