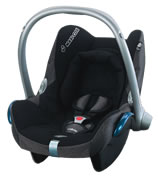 A freaked out British DT reader emailed, wondering if their Maxi-Cosi Cabrio was going to get confiscated by US Customs when they landed at the airport. Seems they were reading along in an otherwise uneventful and mildly informative messageboard thread about the Consumer Reports controversy and when Momika showed up. Here's the first 1% of what she wrote:
it IS against the law to get that European car seat to use here in the US.

The US law reads:

A person may not manufacture for sale, sell, offer for sale, introduce or deliver for introduction into interstate commerce, or import into the United States, any motor vehicle or motor vehicle equipment....unless the vehicle or equipment complies with the standard...Title 49 Section 30112 of the US Code of Law

Child seats are items of motor vehicle equipment. The fine is up to $1000 per violation. Federal Law does not address USE so consumers can technically use a non-US certified child seat, but when they brought it in (importation) they broke the law. However, US State Laws prohibit the USE of non-US child seats. US Customs has the right to seize non-complying child seats. Visitors/tourists are given special consideration. (A child seat in US law is one designed for children up to 50 pounds.)

Buying a non-US child seat and bringing it in risks US Customs seizure and fines. Bringing a US seat into Canada is also technically illegal in Canada...visitors get special consideration...
Set aside for a minute this kind of randomly sourced messageboard advice which fills our search results--unequivocal, authoritative, sure to scare the crap out of whatever expecting parent gets within earshot, and rendering any and all your hard-won, now-deluded research and reasoning useless in an instant.
Let's stick to the facts: has anyone ever had their non-US car seat confiscated at Customs? Has anyone ever been questioned or hassled about it? Has anyone been stopped from flying with such a carrier on a US airline?
If so, please share what happened. I'm not trying to debunk or deny any issues of what the law says, but if this is a real, non-trivial fact of life of using a non-US carseat in the US, people should be aware of the extent of it. We've been asked once by a flight attendant if our Maxi-Cosi was FAA-approved, when it was too wide to fit in a bulkhead seat. I said, "We fly with it all the time. The problem is just these armrests don't raise up." She changed our row, and that was it. How about you?
Car-Seat.org: Consumer Reports [WITHDRAWN] [car-seat.org]