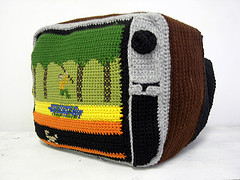 Artist Christine Domanic made this sweet, sweet crocheted TV with Pitfall playing on it under her etsy handle, JackRabbit. Which does not, unfortunately, mean it is for sale.
Of course, it doesn't matter for you, because if it had been for sale, I would have snapped it up before posting it here. And the crocheted Atari 2600 console and joysticks along with it.
It's the only way the kid'll have a TV in her room, I tells ya.

Atari-Pitfall TV 02, from JackRabbit's flickr stream [flickr via malisia]
JackRabbit's etsy store is mostly bags and scarves--oh, and this insane knitted wiener bench that made the news a couple of weeks ago [etsy]