[02/08 update: check the comments below; unfortunately, a number of people over an extended period of time have complained about problems or delays completing their orders from Reckon. Lead time on orders not-in-stock have stated leadtimes of up to 3 months. Just so you know.]
The kid's coolest shirt by far has been her Blondie shirt. It was a gift from her uncle two Christmases ago, and it features the kind of thick, rubbery iron-on image you'd come to expect from a baseball jersey. Plus some glitter around the edge. The kid called it her "Mommy shirt," and since it was a hot, vintage image of Debbie Harry, my wife didn't argue.
Now the kid's outgrowing it. Anthill Trading, the big rock licensing outfit who made it, has long since cut it from their inventory. Here are some shirts I'm thinking of to fill her quota for hipster t-sh--no, you know what, screw hipster.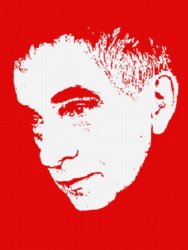 Zoe's hopeless, it's true, but Gena Rowlands is so far beyond hipster, not even New York Magazine would dare try roping her in. And Whit Stillman or Krzysztof Kieslowski, well, those are just filmnerd shirts. Grandmaster Flash, well... OK. Maybe that's hipster. But I'd hold out for the Liquid Liquid shirt anyway.
Reckon Limited Edition Silkscreened Shirts and One-Pieces, $21 [reckonwordwide.com, no 'L', and etsy closed]
Previously: Jon Stewart on a Onesie; spectacular, brainy Onesies from Reckon