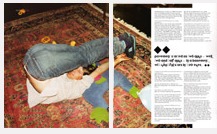 Sheesh, February is officially Diaper Deal Month now. Turns out gDiapers, the amazing, flushable diapers that come with their own toilet bowl swizzle stick, is throwing a Happy Baby, Happy Planet Giveaway in conjunction with Wild Oats, the other organic grocery megachain.
At the end of February they're having a drawing for a year's supply of gDiapers, plus $1,000 donated to the non-profit of your choice, plus a customized lullaby by the Von Dutch of lullaby customizers, Michael Allen Harrison [no relation].
Each Wild Oats store will also be giving away a $200 basket of "natural, hip and fun" baby stuff. So go cough up some demographic info right now! I mean, what're they gonna do with it? They're hippies!
gDiapers Happy Baby, Happy Planet Giveaway [emailroi.com ? via mark at sparkability]
image: malkmus doing happy baby in tokion