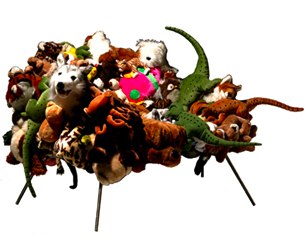 A reformed burglar gave PFAdvice some tips on where to hide your money and valuables at home. The first tip: have a plausible-looking decoy stash with some stuff in it [in NYC, they used to call this your 'mugger money'], so the burglar'll leave without trashing the place. His other advice was to hide money inside a stuffed animal in a pile of other stuffed animals:
His number one recommendation for money was in toys in a young child's room. As he explained, young children don't have money, they have an abundance of toys and most parents don't trust a child around money. Therefore, parents will rarely hide money there. In addition, when money is hidden, it is usually hidden away neatly and securely — a child's room is rarely a neat place making it an unlikely place for money to be hidden. Plus with all the stuff in a child's room, it is not someplace that a burglar can search quickly and get out (rule #2).
Then,
lash the stuffed animals together to form a chair
...
The Best Place To Hide Money: Conversation With A Burglar [pfadvice via consumerist]