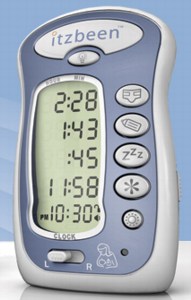 Who knew we were living in the midst of an at-home-dad-driven renaissance in baby tracking technology? While the Baby Industrial Complex was introducing such literally archaic devices as the Mom Abacus as recently as 2004, dadovators like Ben MacNeil and Greg Sheldon were busy ushering in a new golden age for parenting civilization.
MacNeil, of course, is the inventor of Trixie Tracker, an intricate and amazing web-based system for tracking and monitoring the timing and other vital details of caring for a newborn: diaper changes, feeding times, sleep schedules, breast milk management, and more.
Sheldon and his equally sleep-deprived wife, meanwhile, were facing some of the same challenges on the west coast, constantly asking each other, "How long it's been since the kid ___?" That inspired the Itzbeen, a 4-in-1 baby timer/alarm clock that you can clip anywhere: on you, on the kid, on the bedpost, etc. With one simple touch, you just reset the timer after you feed, change, or drop-sleep the kid. It's an easy, clean, and convenient design. As far as it goes.
What the Itzbeen doesn't do, unfortunately, is store or export the data; it just wipes it. Which, again, is fine, if you're using it as a replacement for an abacus or a notepad. The drawback of the Trixie Tracker system has always been the difficulty [sic] of entering the data, i.e., you had to go to your computer and click a button. [MacNeil's a software programmer who created 1-key shortcuts for his original system, so no biggie. Still, it's not as pushing the diaper button on the changing table.]
Tracking data like this can seem obsessive, but Ben showed how it can be revelatory as well; developmental patterns and trends emerge that are invisible even with the best-kept paper baby log. An Itzbeen that could collect and store elapsed time data, then upload it for sharing and analysis would be an awesome way to close the babydata loop.

Itzbeen is just now hitting retailers, check the site for pricing and availability [itzbeen via dt reader mark]
Previously: Wow, Trixie Tracker's All Growed Up