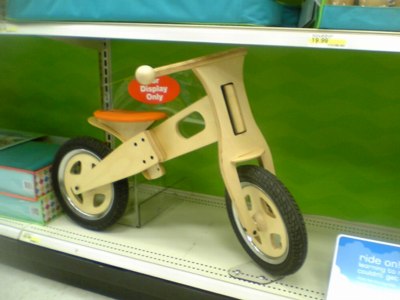 A couple of folks have sent in sightings over the last couple of weeks, but it's not online, and I never go to these kinds of stores myself...unless it's to check out ruthless, fire-at-will Targetting.
After all, it was based on a 200-year-old design to begin with. The LikeABike had already spawned a range of LikeALikeABikes--one site in Germany showed almost 30 different makes and models. But nothing can compare to head-on competition from the slightly stylish, Big Red Box.
Target has felled their Chinese plywood forests and fired up their Chinese factories to bring a LikeABike-esque wooden toddler bicycle to the market for just $50. That's almost an 85% discount on the LikeABike's admittedly steep original price of $279.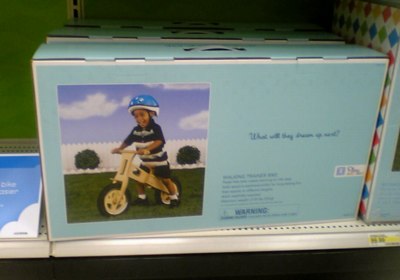 The lines on the Target version are a little clunkier, and the--you know, what, it's freakin' 85% off. What kills me is the tagline on Target's box: "What will they dream of next?" And by "dream of," they mean "let some startup bounce along the first two years of the product life cycle for us." [thanks dt readers eric, ambra, annette, and jason, Target shoppers all]
Previously: A collection of LikeABike-related posts
the same M.O.: Robeez has a giant Target on its back