OK, so I don't talk about the kid's school on the blog, but this is about furniture. I'm supposed to oversee the class project, which'll be auctioned off to raise money for tuition assistance.
We're making a play table and chair set [and when I say "we're making," I mean "I'm buying"] which the kids will cover with paint handprints. Then I'll throw another couple of coats of poly on there and--BAM-- instant heirloom.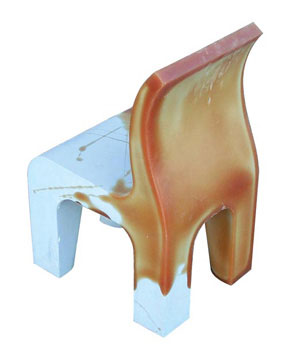 The question: what to use to paint it? One teacher, a veteran of such projects, said it was fine to use the tempera paints they have in class, then just seal it when it's dry. Really? Should I buy some acrylics instead? What's the messy-to-use vs lasts-more-than-a-day tradeoff?
But I have this nightmare scenario in my mind where my sealant-soaked brush drags little Sofia's handprint into an unrecognizable schmear across the table, and I'm stuck with an unsellable Richard Hutten knock-off. Or can I spray seal it somehow, then brush on the rest?
Bonus Question: Anyone know where there's an Eric Pfeiffer Chalker Table in stock?