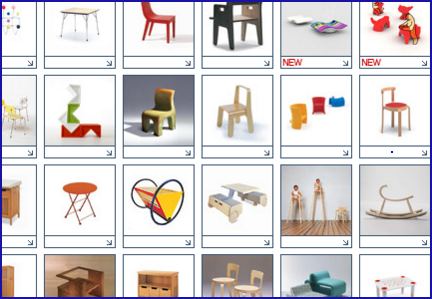 Someone at Architonic must have just had a baby, because they've blown out a whole product category of furniture for kids ["Almost every designer has designed something for children, but few of these designs become known to the wider public..."]
Mostly familiar stuff [if you've been writing a blog about kidgear for the last couple of years, that is], with some sentimental favorites [the kid-sized Rudolph Schindler chair by Marmol Radziner], and a few new finds: like the 1944 Peters Table and Chair by Hans Wegner.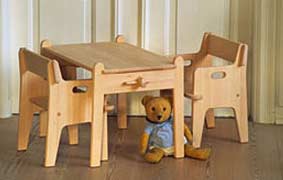 The war made it hard for Wegner to find a suitable christening gift for his friend Borge Mogenson's son Peter, so [all together now] he decided to make it himself. The chair was designed so that little Peter could [eventually] have fun putting it together himself. Mogenson and Wegner went on to put the pieces into production.
The Peters Series is manufactured by Carl Hansen & Son in the original beech or in maple. Twentytwentyone lists the Peters Chair - CH410 for 182-192 pounds, while the Peters Table - CH411 is 213-228. That Danish design & craftsmanship'll always cost ya.

Furniture For Kids @ Architonic [architonic.com]
update via Andy: Tuss has a vintage Peters Chair for sale on their webshop, Tusshop.se. [take out one 's' for savings Sweden]