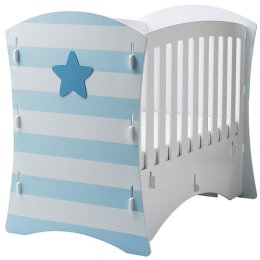 You want a slightly slick, modern-style crib but you don't want to spend a freakin' fortune? You hear that Wal-Mart's starting to offer slightly modern-style cribs and stuff, but your grandpa ended up spending his retirement as a Wal-Mart greeter because his Main Street hardware store went belly-up in 1993, and you'll be damned if you're ever gonna drop a single dime on anything touched by Sam Walton's shadow? You may be in luck.
Target.com will be stocking the Slotti Crib, from the British baby gear company Cosatto, in a couple of weeks. The Slotti's clean, cool, slot-together design is not only goodlooking, it eliminates one of the biggest pains of most flatpack cribs; the assembly process.
Though to be honest about it, building the kid's crib was a memorable, even emotional experience that made me really feel like a dad. Not that it'd be impossible to get the same impact snapping the Slotti together in five minutes, just that--AHA. I've got it.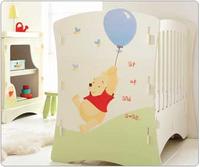 Cosatto sells a not bad at all Winnie The Pooh version in the UK, but Target's only got Slottis in pink or blue stripes. Repainting the crib ends a much cooler solid color will not only make it, uh, much cooler, it'll take more time, giving you the chance to feel that warm, "I'm doing something special for my kid" feeling inside. All for just $249. Pretty amazing.
Cosatto Superstar [aka blue] Slotti Crib and Slotti Candy Girl Crib [aka pink], $250 [target.com, online only]
Previously: Attention, Wal-Mart Non-Shoppers: Modern Nursery Collection??
Before that: Big box retailers?? we should all be buying sweet hardwood maple cribs from Community Playthings anyway.