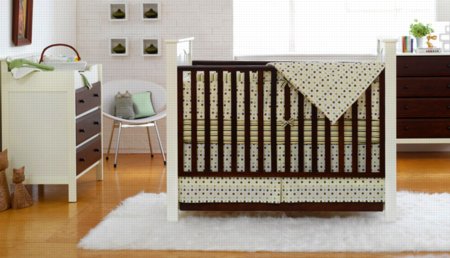 "Modernist" may be a stretch, but it looks like "Modern" is officially becoming a mainstream, mass-market selling feature for nursery furniture.
Wal-Mart has introduced a Modern Nursery set: a crib, changing station, and dresser in a blink-and-it-looks-like-Netto Collection combination of white painted and "Espresso" stained pine. And they're selling the crib at the decidedly un-Netto price of $299.
Granted, it has some traditional touches and details, especially along the edges; it's nowhere near as pared down modernist as, say, the waxed plywood floor in the product shot above. But still, it's a surprisingly clean-looking design. [Surprising to someone who's only set foot in a Wal-Mart like half a dozen times in his life, I guess.]
Normally, this is where I'd insert an affiliate program link to the product, in hopes of scoring a few percentage points kickback. But since I dropped Wal-Mart early on, it's just a plain old link. So shop with confidence, knowing all your money will go straight to the company.

[update: Now Target's getting in the game, too.]
Modern Nursery Collection [wal-mart.com via dt reader sarah]