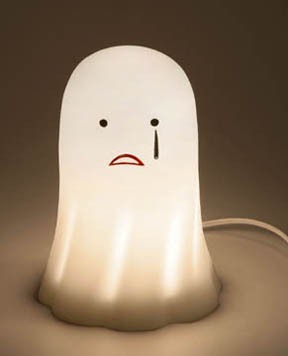 Like I said, I'm glad I don't have to compete with Ikea for anything. But I wonder if artist Marcel Dzama said the same thing back in 2003-2004 when CerealArt released his Sad Ghost Lamp.
Made of ABS and squishy silicon rubber, Dzama's ghost is one of the characters from his paintings, translated into a limited edition, functional object.
It's tempting to argue there's a certain kind of art involved in transforming that, in turn, into a line of snuggly, rechargeable ghost night lights--and then selling millions of them around the world at a 95% discount. And actually, using LED's instead of incandescent bulbs dramatically cuts down on electricity usage and heat produced...
I guess the real lesson here is, sometimes it can be just as hard explaining why you bought the $12 lamp instead of the $150 one as it is the other way around.
Artist multiples and objects by CerealArt [cerealart.com]
Marcel Dzama's Sad Ghost Lamp [ed. 2500] by CerealArt, $150 [velocityartanddesign.com]
Previously: Spoka silicon rubber ghost night light by Ikea