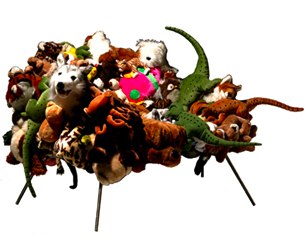 I know what you're saying. You like the Campana Brothers' awesome sofa made by lashing plush toys to a steel frame, but for $15,000 [up from $11,000 just a year ago!], you don't want some generic stuffed animals from some random store in Sao Paolo.
Well, the Campanas have heard your plea. Dezeen.com reports from Design Week Miami that the Campanas are in talks with Disney about creating a new range of furniture using Disney characters.
Frankly, I don't see why you'd need Disney's permission. Just buy a crapload of dolls yourself at the Disney Store, then ship them to Brazil for your commissioned piece, maybe get it for $14,500?
Campanas in talks with Disney [dezeen.com]
Previously: Chair made out of stuffed animals