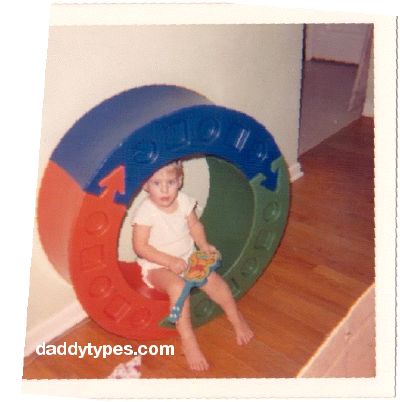 This was one of the coolest toys we had growing up, and I can't find out a single thing about it. It was called a Playall [Play All? Play-All? PlayAll?], which, in this CD and MP3 era, turns out to be a nearly Google-proof name.
Judging by the photos--that's my brother up top, my sister below--we got the PlayAll no later than 1973, and it was going strong in 1978. [It finally got left behind on a move because someone *ummm* cut the bottoms out of a few too many of those circular indentations on the side.]
It was made of super-thick, rotationally molded plastic, and its three pieces locked together in a W-shape, a question mark-shape, or a full circle. When it was a circle you could roll a kid along inside it. Set on its side, the three pieces made a great fort.
For the shipping alone, I'd hate to buy one of these things on eBay; but at least if I knew what and where to look for, I could start preparing the UPS guy for the burden. Anyone?
update: we have one lead: the Edu-Ring, by St Louis-based Learning Products, a long-time maker of plastic educational toys and furniture. Any more tips out there? {thanks, dt reader kate below]