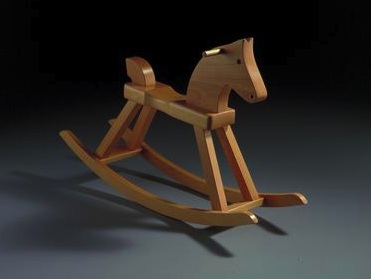 Known to design-y parents as the father of that teak monkey, and to the rest of the world as a modernist master Danish silversmith, Kay Bojesen also made a gorgeous, pared down rocking horse in 1951.
Rosendahl reissued it recently in beautiful, butterscotch-colored beechwood, but only in a smaller, 32cm H size. That rig is available at places like kid-o and nova68 for, oh, $600-650.
But before you shell out, you should know there's at least one finer thoroughbred in the stable: vintage rocking horses exist, too, in a larger size, 54 cm, and, if you're lucky, with a golden patina. There's one--and only one--for sale for $750 on eBay. It's in the eBay store called My Modern Life, which is run by the same seller who dazzled the world with that Creative Playthings townhouse a couple of weeks ago.
VINTAGE Kay BOJESEN Wood Rocking HORSE, $750+s/h at My Modern Life [ebaystores]