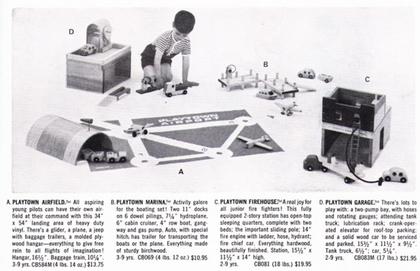 I know it's barely scratched the surface, so the last post of this ad hoc, Molded Plywood Week at DT will be a link-filled roundup of all the molded ply goods and gear that have already been on the site.
But this last new-to-me product is also the one that started it all: this incredible--and incredibly simple--aircraft hangar, which was part of one of Creative Playthings' most popular lines, the Playtown toy & building series. It's awesome, one small but impressive step up from playing with an empty cardboard box.
The Playtown Airfield came with a slew of wooden planes and ground equipment as well as a playmat, but the hangar was the distinguishing touch. The inner workings of CP are maddeningly under-documented, but there's one hint for who designed the hangar: the late designer/educator Julian Winston mentioned undertaking "a complete re-work of 'playtown' items" when he started at CP sometime between 1963-1966 [the year CBS bought CP and started pouring money into the business.] Otherwise, my money's on Gloria Caranica. Either way, does anyone know if these things look and play as well in person?