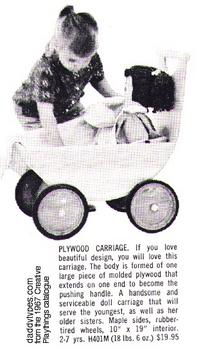 The Hobby Horse is in a museum and gets knocked off nationwide, but this beautiful Creative Playthings plywood carriage disappears into oblivion, with barely two Google mentions to rub together? How is that?
Wolfgang Sirch's bentwood doll stroller, I have seen, at DT advertiser OllieBollen, for example.
update: both Mark from Sparkability and Andy from, from on top of his mountain of awesome vintage kids design, I guess, sent in photos of their CP Wagon/Carriages that they just happened to find on eBay, no problem, gee, it wasn't that hard. Didn't you get one? No, I did not.