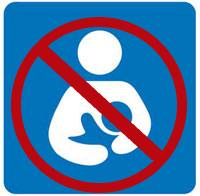 A Santa Fe family has filed a complaint with the Vermont Human Rights Commission after they were kicked off a Delta Airlines flight from Burlington to NYC when the mom refused to use a blanket to nurse her 22-month-old daughter. They were sitting alone in the second-to-last row of a 50-seat Embraer 145 regional jet. The mom was in the window seat.
None of which matters. They're from Santa Fe, flying between Vermont and New York? Nursing a 22-mo kid and asserting their right under Vermont law to breastfeed "in any place of public accommodation in which the mother and child would otherwise have a legal right to be"? They're clearly dangerous hippie activists who needed to be dealt with.
update: According to USA Today's report, the flight attendant, obviously a fan of The View, actually told the mom, "You're offending me." That sound you hear is Barbara Walters cackling with glee.
Woman kicked off plane for breast-feeding [msnbc.com via dt readers brandt and arlopop]