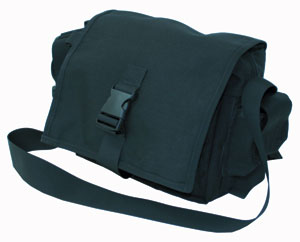 DT reader Eric tips the rest of us off to a site you law enforcement and Close Quarters & Clandestine dads out there already know [way to keep a secret, Eric]: BlackHawk.com. If I were to order a diaper bag cold, it'd be the Tactical Battle Bag, available in black, coyote tan, or olive drab:
"Battle Bag", "Grab-to-Go Bag" - call it what you will, but you will want one. Organize all of your warfighting necessities in this over-the-shoulder carry bag. Everything from comm., chem. lights, concealed handgun, spare magazines, maps, GPS - all have a place in this bag to enhance your survivability. Great for vehicle, barracks, or the occasional R&R cab ride.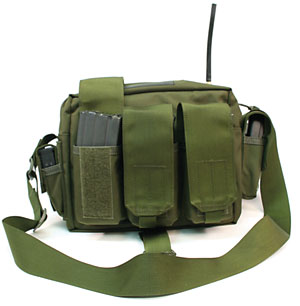 My favorite magazine is the New Yorker. And Dwell. Dwell's a great magazine.
BlackHawk Battle Bag, $99.95 [blackhawk.com]
Another good magazine: the BlackHawk Extreme Gear Magalog, $4.95 [blackhawk.com]