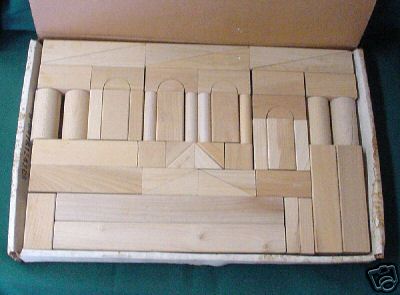 Unlike with some of their more unusual toys or exceptional designs, you can find pretty sweet modern equivalents to the vintage, tabletop-scale, wood blocks from Creative Playthings.
Still, if you're a purist, there are two fine-looking sets of these blocks on eBay right now, just waiting for you. [The small sizes, especially of the turned columns and the little triangle blocks, puts these in the chewable/choke hazard range for young kids, so sock them away until the everything-in-mouth stage is behind you.]
One set is part of a giant lot of CP toys that includes some winners and some duds [ooh, two toy brooms AND a dustpan??]. It's already at $32+shipping, and it doesn't end until Nov. 10.
If you don't want pickup sticks or play forks, you can buy the table blocks straight up [pictured above, looking like they've never left the box] from another seller, starting at $13+$8 shipping. That sale ends Nov. 13. [update: it sold for $101+s/h]
LOT OF CLASSIC TOYS FROM CREATIVE PLAYTHINGS, ends Nov. 10 [update: sold for just $32. wow.] [ebay]
Creative Playthings Natural Wood Tabletop Bloks MIB, ends Nov 13 [ebay]