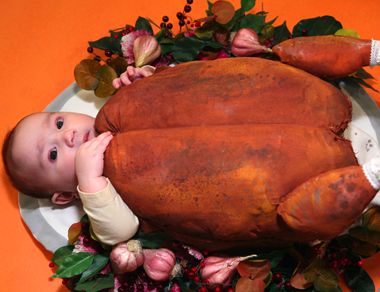 Never let it be said that Daddy Types won't stoop so low as to post about Martha Stewart. We WILL stoop that low, thank you very much, as long as it's funny enough.
Oh, but what's funny about the look on this kid's face who seems to know exactly what his parents have dressed him up as for Halloween? No lingering psychic scars in that house, I'm sure.
There are complete instructions and a Turkey Template, in case you're looking to carve up your kid just as he's started sleeping through the night.
Isabelle Ortley's Roast Turkey Costume [marthastewart.com via dt reader julie]