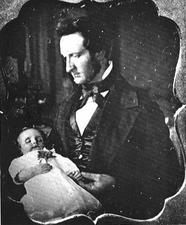 One of the scenes that stays with me from Daniel Raeburn's New Yorker essay about how he and his wife dealt with the stillbirth of their daughter was the photographs. A nurse had assumed they would want to take some photos with their daughter as part of the mourning process, and offered to bring her body in for the photographer. Then she was surprised that the Raeburns opted not to do that; apparently, it was one of those things people do.
As it turns out, the nurse wasn't wrong. It was certainly something people did in the nineteenth century, when photography was first gaining popularity. At least one author traced the emergence of the modern notion of the nuclear family through the conventions of funerary photographs, where families posed together with their loved ones' remains. [The father's lost-looking stare in this photo is remarkable, both for the expressive grief it seems to convey, but also for its very existence; long exposure times made most portrayals of emotion very difficult to capture on camera. There's another of him with his wife and the baby on this page.]
On a graph, unfamiliarity with funerary photos--or bereavement photos, as they're now often called-- falls somewhere near the intersections of Americans' uncomfortable, arms-length relationship with death, the whipsawing grief of a baby dying, and the sheer cluelessness of new parents in general.
So for most people it's probably more than enough to just hear that an organization like Now I Lay Me Down To Sleep exists, and to tuck that fact away in the back of their brains. NILMDTS is a non-profit association of professional photographers who volunteer their services to "all parents experiencing the death of a baby."
Yeah, I'd kind of started this post out to be a purely historical interest kind of deal.

"Haunted When It Rains" gallery of 19th c. funerary photography [asu.edu via boingboing]
Now I Lay Me Down To Sleep, Infant Bereavement Photography [via this metafilter thread]
Related: Jay Ruby's book on the history of death and photography, Secure The Shadow [via this metafilter thread]
Previously: Daniel Raeburn writes about his stillborn daughter in the New Yorker