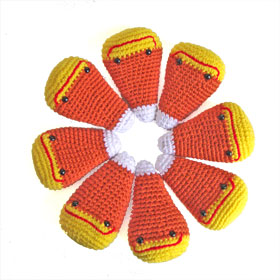 Let's face it: the American Academy of Pediatrics frowns on giving any candy to infants. Why, I even got grief for letting my 3-week-old daughter barely touch a Thin Mint Girl Scout Cookie with her protruding tongue. [I swear, it just fell on her tongue!]
Fortunately, this hand-made Candy Corn Rattle by Pepperberry Crochet is exactly the kind of beautifully executed toy a new parent needs to foster in his infant a highly developed appreciation of season-specific candy.
Now if only the Peeps people would focus their R&D efforts on creating some awesome plush squeezetoys instead of those shiver-inducing, eggnog-flavored [sic] snowmen, we'll be in business.
Candy Cane Rattle, $16, by Pepperberry Crochet at Mahar Dry Goods, the "Barney's for the Etsy set" [mahardrygoods.com]