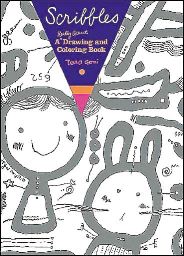 Not content with writing the definitive children's book on defecation [Everybody Poops], illustrator Taro Gomi has set out to conquer those stretches of time between bathroom visits, too.
He did these giant coloring/activity books which are as thick as phone books [but much lighter], and they're actually cool- and fun-looking.
I'm a big non-fan of most coloring books for the same reason I'm a non-fan of most children's illustration: the pictures just aren't that interesting, or they're too saccharine sweet. But then too often, when artist artists do a coloring book, they totally miss the mark on colorability.
Gomi's books strike the perfect balance of artistic interestingness and fun. Each page has enough drawing and story/scene--and they also have suggestions like "fill the field with mushrooms"--to get a kid started.
The obvious downside here is the size, and it only matters when you travel; those flimsy, thin mainstream coloring books are still easier to fly with. But if you can bear it, just treat the thing as a giant coloring pad instead of a book, and tear off a bunch of pages at a time.
Buy Scribbles: A Really Giant Coloring & Activity Book and Doodles: ARGC&AB for $12.69 each [amazon]