I still have posts from the ABC Kids Expo and there's already big news stacking up from Kind + Jugend in Cologne, the sehrgrossekidgearfair so big it makes Las Vegas look like Cactus Pete's.
I think I'm just gonna push through, so brace yourselves for a slight gear onslaught.
Mutsy. Mutsy was huge in Las Vegas, at least square footage-wise. They're bringing three stroller models to the US, some in a couple of different trim levels, where the major difference seems to be wheel design.
They seem to be focusing on specialty retailers for selling, but it looks like a bit of an information-intensive product that calls for online research/shopping, frankly. I have a hard time picturing a high school stroller jockey being able to do justice to the Mutsy steering, wheel-swapping, and modular option story. [Yes, I'm thinking of Buy Buy Baby here, too.]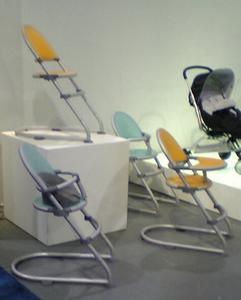 What was news to me was the EasyGrow High Chair, an all-aluminum extendable, adjustable chair that's coming along for the ride. How does a high chair fit into Mutsy's "baby mobility" brand, you ask? Yeah, I'm a bit vague on that point, too. But I can totally imagine the production meeting where they're discussing what to do with all the extra aluminum extrusion capacity at the new stroller factory, and then some designer starts fiddling with a paper clip...
I think the Mutsy EasyGrow High Chair will start at $169, plus $49 for the removable foam booster seat insert. [mutsy.com]