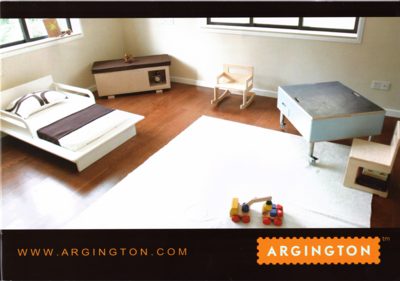 While all the other kids' noses are buried in their New Yorkers, for the last week, my kid's favorite book has been a piece of swag from Las Vegas: the new Argington catalogue.
Near as I can tell, the story goes something like this:
A little boy has five rocking chairs, four of which are in the storage unit in Long Island City. One weekend, he goes to visit his cousin in Hartford. His cousin has a giant room of his own, with wonderful light. All his stuff that doesn't fit in his sweet slow-hinge-lidded toy box, his parents just stick in some giant closet, or downstairs in the basement, or in the garage, or in the attic. Or wherever, no biggie.
They go downtown to a museum and to play in some water, not in a fire hydrant, but in a giant fountain underneath an Alexander Calder sculpture.
While they sit there drinking lattes, the boy's aunt and uncle ramble on and on about their great preschool, which cost like a dollar, and they keep asking his parents what they pay for parking again, and have they ever thought of moving out of the city.