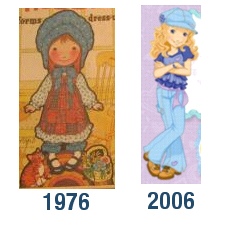 Big news for the 2006 Holiday licensing season:
In the new Holly Hobbie & Friends series, Holly herself is the great-granddaughter of the "original" Holly Hobbie and feels a deep sense of connection to her personality, creativity and warmth. Holly even looks like her famous ancestor. But in a sign of the times, the new Holly wears boots and a funky signature cap complete with a touch of gingham - as a nod to the iconic bonnet worn by the original character.
Lessee here. If the new Holly is 8 now, that means she was born in 1998. And if the "'original' Holly" was 8 in 1974, when the
first licensed doll
came out, and now she's a great grandmother at 40...
No matter how you slice it, that's three generations of teen pregnancy right there. Sadder'n Diff'rent Strokes and the Olsen twins put together.
Holly Hobbie & Friends to launch next year [kidstodayonline]
The Wikipedia entry sure has a lot of exclamation points. [wikipedia]