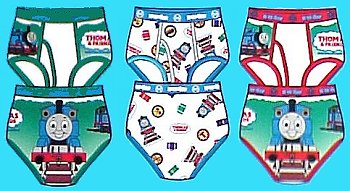 DT reader Andy writes in about a subject I've taken note of myself lately: little girls' underpants. I was taking the laundry out of the dryer the other day when it suddenly dawned on me that for the foreseeable future, our largely monochrome laundry would have these little bursts of rainbows and colors all through it, like a wearable bowl of Lucky Charms. But anyway, on to Andy's question:
Burning issue of the day: My 3 yr old daughter loves Thomas the Tank Engine, and she isn't the only female to [do so]. Why then does Thomas underwear only come in brief form (i.e., for boys)? She doesn't mind wearing them, of course, but she's a little confused about the Y shape on the front.
Such a simple question, such a complicated answer. I was going to look in my Dora The Explorer backpack for some other examples of this. But I couldn't, because--oh, that's right--they don't make Dora stuff for boys.