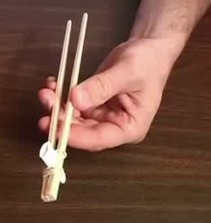 For a couple of months, I'd been planning to ask the Rice Daddies for the best advice on teaching the kid to learn to eat with chopsticks. Then I found out they were using chopsticks from IKEA, or these tricky tweezer-like unisticks, or the weird training chopsticks from Combi, the Japanese division of the Baby Industrial Complex. I was about to ask them what the kanji meant on my new tattoo, too, but then I remembered it's an Asian-American dadsblog, and I was sounding like a nerdy egg.]
No Japanese toddler I've ever seen holds chopsticks right, but they can still shovel things into their mouths, but the kid didn't seem to be doing that much, so I've taken to rigging up the rubberband-around-the-rolled-up-wrapper chopsticks deal for her.
Now she picks up tuna rolls and single edamame with them, which is a cool trick, but according to the commenters on Blogging Baby's how-to-teach chopsticks post last week, I'm just screwing her up. We're the Asian dining equivalents of helicopter parents. We should just be handing her the sticks and letting her figure out how to eat somehow. She'll pick it up soon enough from watching us.
Anyone have any perspective on this?

When and how to teach kids chopsticks? [bloggingbaby]
Unless you're a big Jake fan, you can skip to the middle of his how-to video [img above], and even then it seems too complicated. [jakeluddington.com via bb, ]