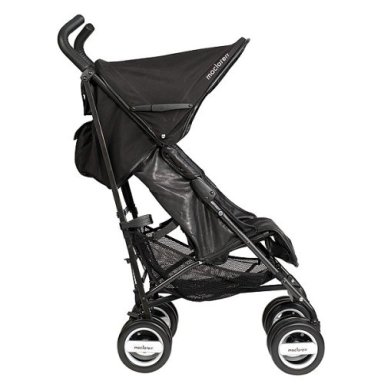 Warning: excessive-praise-for-a-$1,000-stroller alert! Contents may be hazardous to anti-consumerists, easily offended Marxists, and the principled poor.
The carbon fiber and black leather Maclaren is out, and it looks awesome. Maclaren introduced the black frame on their Burberry edition, but the coolness of the frame could not make up for the overwhelming dilettantishness of the check. [Seriously, we've had enough fun. Now put that stuff back inside your dad's raincoat where it belongs. It's like hoarding Nieman Marcus bags or something.]
Now there's another option for a black Mac, sheathed in carbon fiber. It's not clear that there's any structural or functional benefits from the carbon fiber skin; you can pretend it's to offset the added weight of the leather-lined seat, though. In reality, I think it's purely for design, and you know what? That's just fine with me.
The fashion designer Maclarens are priced in a way that can force a fabric vs functionality, women vs. men tradeoff. At $1,000, the Maclaren CF6506 isn't being compared to anything, and there are not tit-for-tat tradeoffs. People will buy it purely on its own terms, as a subtly distinct variation on a well-known quantity. It's understatment pretty much thwarts the "look at me! I have a $1,000 stroller!" crowd. But like a debadged AMG Mercedes on the Autobahn with a twin exhaust and slightly flared wheel wells, people who follow such things will recognize it when it blows by them. So it's win-win!
It's on sale at Target, believe it or not.