I'd seen the slot-together chair by Swedish indie designers Our Children's Gorilla a few months back at Yoya but it didn't have any labels on it, and when I went back, it was gone. And Googling around for "Swedish Gorilla" came up empty, so I was stoked to finally connect the dots at Bubble today.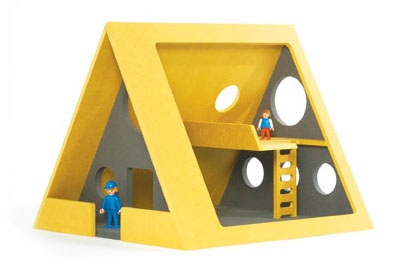 Like almost every company at Bubble, it seems, Our Children's Gorilla was launched a couple of years ago, and they've quickly expanded to a very coherent range of contemporary, humor-tinged products: the Pearl chair has a tough, bull-like feel; the A-Frame House is a simple, clean alternative to the Victorian and/or plastic schlock dollhouses out there; sturdy stacking Rubber Band boxes [rubber bands? I just thought they were stripes]; various wood or metal robots; very cool monkey-shaped hangers [it's really hard to sneak whimsy past me, but these hangers manage to do it]; and what feels like a flagship product, a gorgeous walnut train.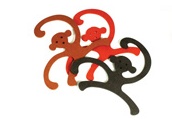 The chair, the house, and the hangers are all made from Valchromat, a dense, organic, dyed-through MDF, which has a nice, paper bag-like surface [matte, warm, slightly fibery] that's different from most slick MDF's.
There's more, actually, but these were the highlights for me. Stores like Yoya and Kid-o in NYC have some pieces, and Modern Seed is starting to carry some, too. OCG's online shop is under construction [sic], so you'll still have to hunt a bit to find just the gear you want. I say it's easier to do it now, while it's still light 22 hours/day in Sweden.
Our Children's Gorilla [ourchildrensgorilla.com via bubble]