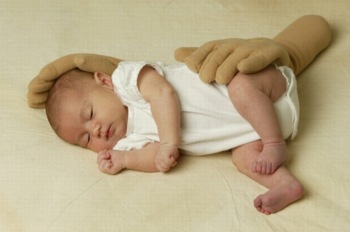 Daddy's hands weren't always gentle
Daddy's hands were hard as steel when I done wrong
But Mommy's hands were soft as muppet pillows,
singin' me a good night song:
The Zaky is an ergonomic infant pillow designed by a mom to mimic the size, weight, touch, and feel of her hand and forearm to help her baby with comfort, support, protection, and development. The Zaky can help calm your baby and help your baby sleep better through the night.

The Zaky was originally designed for premature babies that have to be left at the hospital away from their mother – but the Zaky works wonderfully with all babies.
From The Zaky FAQ:
I am a new father and I cannot be there with my newborn child. Can the Zaky help?

If you must go away for a long period of time, leave a Zaky and a loving note to your partner that says something like: "I am leaving my hand so our baby feels my touch until I return..." Zaky's are perfect for military personnel who are stationed overseas.
The Zaky Infant Pillow, $34.99 for one (left) hand
[pregnancystore.com via
gizmodo
, thanks dt reader
john
]
"Daddy's Hands," by Holly Dunn
[cowboylyrics.com]